I recently received this in depth review from Colin P who has built just about all of my Lamington amp designs!
It makes an interesting read as Colin has learnt a great deal about valve amps along the journey of building Lamington amps.
Hope you find it interesting as well!
"First Lamington build: 5/15W
As a first build the Lamington 5/15 watt amp is not something you want to be attempting with no help at all, especially if you have no experience with valve amps construction. I tried using only the schematic as a guide, and three knock-down re-builds later I bought the construction manual from Grant – So I can honestly say this is money well spent.
Although the finished amp has a little background hum (because of my sub-optimal tube placement) the result of following the manual's wiring practices is a great clean sounding amp with loads of headroom and excellent overdrive tones. I opted for the 5/15 switch and it's loud through a 1×12 cab with a Celestion vintage 30 – even at half volume on 5 watts. Tone control is smooth, and with the gain up high this amp is a screamer that compares very well to some of the big brands at a fraction of the cost.
I built the chassis in to a 9mm marine ply box using GutterGuard for the front grille, added red and green pilot lights to show the 5w and 10w options and added a blue LED strip for some bling.
I also had a local machine shop knock up the chassis out of a sheet of 1.5mm aluminium so it's not a true Lamington because I didn't source the chassis from K-Mart – And 150 coats of shellac always looks good on a decent slice of timber – Here's a photo.: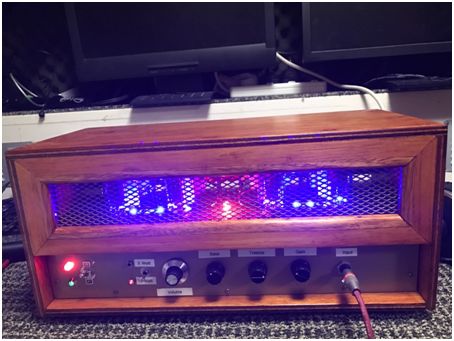 Second Lamington build: Lamington II (40w)
I found Grant's Lamington II schematic on the OZVALVEAMPS web site, and it became the basis of my second tube amp project. For this build I wanted to test out some newly acquired turret board knowledge so I tracked down another legend of Oz valve-amp construction – Lindsay Wallace. His input with regard to power tube, input tube and transformer placement, and his original turret board layout allowed things work out a lot smoother with the build.  I was also fortunate enough to source two of the original 27-0-27 power transformers from Lindsay so the build is all original, with only one power transformer.. Although there was no construction manual for this build I used a lot of the knowledge gained from my first project to build a monster that is grossly over-powered for my small music room. Played through a home-built Eminence Legend 1×12 cab this amp starts to hurt your ears at 3 on the volume dial. It is a good option for gigs, and I have used it successfully at an open mic night in a room with over 300 people.
Initially the amp did not work, attributable to a faulty output transformer which is highly unusual. I also damaged one of the rectifier diodes somehow and was not getting clean power once the OT had been replaced, so sound was a challenge. After replacing the diode all I got was screaming that sounded like feedback.. Any amp builder who knows their stuff could have told me to swap the OT input around to fix the issue, and luckily I knew Lindsay Wallace.
One of the mods I included in the build to make this powerhouse more manageable at lower volumes was a Post-Phase Inverter Master Volume (PPIMV) that works really well. Although I have not compared the sound to how it sounded prior to the mod is still sounds amazing.. I also built the power supply on a PCB using the free version of Eagle for the layout and etching in a plastic tray in my kitchen, and the chassis came from the same source as my earlier amp (Simon at Northlight Engineering in Brookvale is a really good guy).
This chassis was powder coated and built in to a box made of recycled marine ply – so I stained it darker to hide some of the water marks. The (by now customary) bling remained – Hence the red and green glow.. I think it needs some blue LEDs too..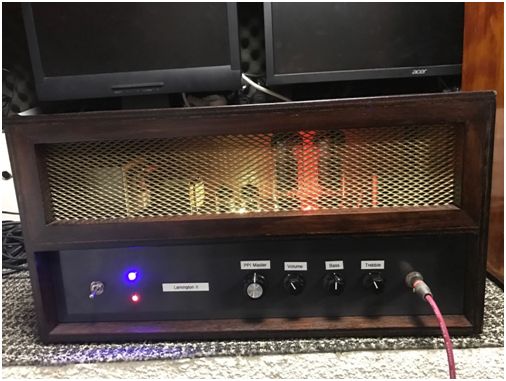 Third Lamington build: Lamington Junior (2w)
I already had two Lamington amps done, and was looking for something smaller to use in my 3×3 music room when I saw the Lamington Junior design which became the subject of my 3rd Lamington build.
For this project I chose Grant's point-to-point methodology which is much lower in cost, and it went without saying that I bought the build guide- Just to make sure everything was done right.
For the chassis I used a spare piece of 1.5mm aluminium sheet the same size as an A4 page, with a couple of extra pieces pop-riveted on to make the front and back panels – So it's not strictly a true Lamington Junior either, but I will take the hit on that one..
Although it is a small amp it is also surprisingly loud, and sounds great through both my 1X12 Eminence and Celestion cabs. Tone control is also very precise, and cranked up this amp sounds fantastic with my Les Paul and my Strat. It's a bit small for gigs but it's an excellent practice and studio amp and it's easy to build – even if you do the metalwork from scratch like I did.
This one has the power switch to drop the output to 1w – and from my experience there is not a whole lot of difference – They are both loud…
After construction and checking of all the wiring, component values etc the amp came up first time with no issues and I can honestly associate that with Grant's build guide which is very easy to work with.
In case I haven't said it before: "Be sure to buy the build guide" – It's money well spent and it takes the hassle factor out of the equation when you are trying to figure out why things are not working, especially if you are new to tube amp construction..
Here is my Lamington Junior – Bling and all…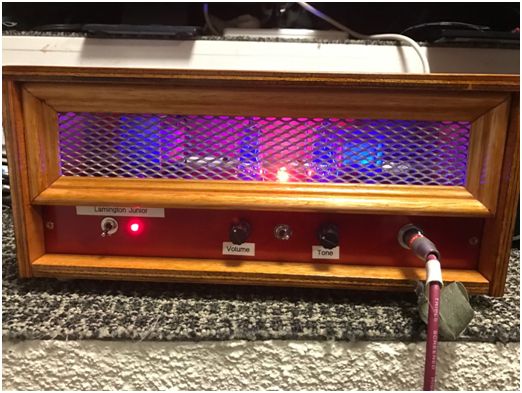 Fourth Lamington build: Lamington Lite (10w)
I knew I was going to enjoy the Junior but I also wanted something a little larger that I could use for small gatherings where a PA was not necessary, so I started a Lamington Lite build just as I was finishing off the Junior. Using the same point-to-point technique as Grant's other designs this amp also worked off the bat and I have to say that it has become one of my all-time favorites.
It is simple to set up, the big clean tones are magical, and the overdriven sound is way too good for an amp that costs just a couple of hundred dollars to build. I bought a second set of tubes just in case, so if anyone has spare pair of Halogen transformers I want them !!
The chassis is made out of another piece of scrap aluminium with sides riveted on, and the halogen transformers came out of a friend's roof – So it cost almost nothing to construct, and it's not much bigger than the junior.
The thing I like most about this amp is the clean headroom which is crystal clear– it needs to be well up on the volume dial before it starts to break up so if you are looking for a great little amp that doesn't cost a bomb this is the one to go for.
I also built mine in to a marine ply box with a billion coats of shellac for a mirror finish (about standard these days), but with this one I opted for a quilted maple veneer on the front panel instead of the LED bling. There is also a panel on the back but I have allowed for airflow so it does not get too hot inside..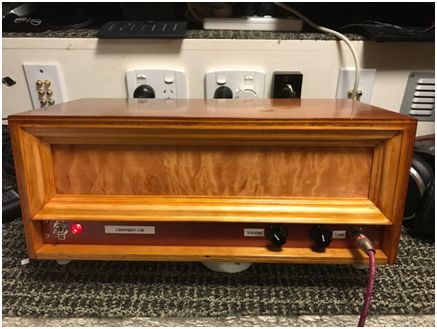 Fifth Lamington build: Lamington III
My latest build is the Lamington III. This is a little more complex because it has these unusual things called Anode Caps (which I had no clue about) and on the power side I also made a PCB in my kitchen sink.. For this build I also brought the Bright and Presence switches on to the front panel , and of course I bought Grant's build guide to ensure the point to point wiring was done correctly.
Since I had a spare 27-0-27 transformer I only needed one PT, so space was not much of an issue in the full size chassis that was bent for me by my old mate Simon at Northlight Engineering.
I mounted the output transformer on the underside of the chassis to keep it away from the PT – Not sure whether or not this is bad practice but the amp was working fine and sounding fantastic at both low and high volumes with the right tones dialed in. Speaking about tone it is very responsive on the treble side but mine also has a lot of bass gain that starts to break up when the control is at the 2pm position so I need to check and see if I put an incorrect component value in the tone stack.
When I get round to it the box will be my usual – Marine ply with a million coats of shellac, GutterGuard in front and loads of blue and red bling (which of course is for aesthetics only and totally useless in the sound department).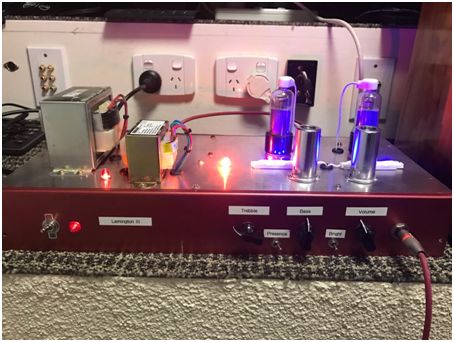 For reference here's a gaggle of Lamingtons  on top of an Eminence Legend 1×12″