Build your own valve guitar amplifier with our 10W Lamington Lite Amp Kit,  $299 + postage (includes the $49 construction manual)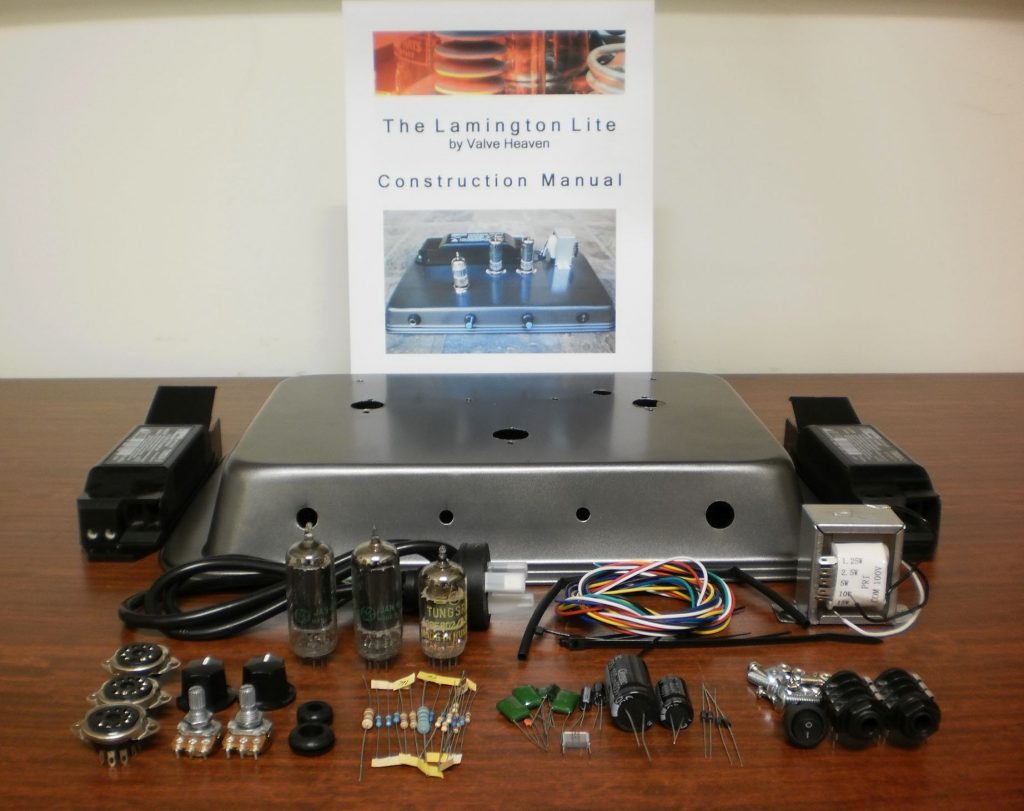 The Lamington Lite
The Lamington Lite is the amp we build at the Valve Heaven Amp School. It was developed to be an easier to build amp than the 18W Lamington amplifier with a simpler power supply and preamplifier but still producing a significant 10W of valve output power. With 10W of power and a simpler preamplifier, it sounds reminiscent of vintage Vox AC10 amplifiers which is not surprising, as the design is similar to the original AC10's pentode EF86 preamplifier and push pull high gain power pentodes. The Lamington Lite has simplified controls while still providing a range of tones from warm, chimey cleans to overdriven crunch and fat lead tones, perfect for intimate gigs. Here is a review of the Lamington Lite from a happy Amp School builder:
"Thanks Grant for a very enjoyable weekend building the Lamington Lite. The amp itself is remarkably great sounding and easily rates with the current batch of Boutique point to point amps as well as the vintage mainstays. Hooked it up to a 2 x 12 Mesa black shadow cabinet and it instantly has become my favourite clean amp. As I said at the course it represents an absolute bargain when you consider you walk out with a point to point wired amp. All the best for the future and thank you once again."
You can hear some sound clips that demonstrate the Lamington Lite tones from clean towards crunch overdrive and then solo tones here: https://www.valveheaven.com/diy-amp-designs/the-lamington-lite/the-lamington-lite-sound-clips/
About the Kit
Amp building is a fantastic way for a guitarist to get in touch with the technology of valve amps. It deepens your understanding of tone and the inner workings of your amplifier. Plus, there is nothing like playing through an amplifier that you have built yourself!
The Lamington Lite Amp Kit includes all the parts necessary to build your own 10W valve guitar amp. Just supply some basic tools and you are on your way. The kit comes with the very comprehensive Lamington Lite Construction Manual valued at $49 which provides step by step guidance as you build your amp.
Some great suggestions are also included with the kit to mod your amp to provide for more tone options.
What is included?
A pre-punched, pre-drilled Lamington Tray chassis
All hardware including transformers, sockets, controls, switches etc
All electronic components including premium valves
Construction Manual including great mods
What do I need to build my amp?
You simply need a few basic tools – a soldering iron and solder, Philips screwdriver, pair of pliers and a pair of sidecutters.
The completed amplifier chassis can be mounted in a headshell or a combo cabinet (not included). Suggestions for completing your amp are included in the manual.
ORDER: The Lamington Lite Amp Kit $299 (+$20 Postage & Handling within Australia)